Please join us for a fun, social evening at Wool & Co. as we unveil Delizia by Lang Yarns.
On Wednesday, November 9 from 6-8pm we will be giving away free mini-balls of Delizia, free patterns with purchase & showcasing the stunning trunk show.
The subtle glimmer of metallic thread flows throughout Lang Yarns Delizia, the newest addition to our collection of yarns. When we met with Jakob Lang over the summer he mentioned that Delizia was one of his favorite yarns. We definitely agree...it truly is a special yarn.
Delizia brings a bit of sparkle to special events, evenings or just everyday. The light, airy blend consists of multiple strands of mohair, silk & metallic thread layered together to create a super bulky weight yarn. Similar to holding multiple strands together while knitting, this yarn has them already combined for easy knitting!
It is ideal for wedding wraps, shrugs & boleros, sophisticated evening accessories or holiday pieces…though we also just love a bit of sparkle for everyday hats, mittens & pullovers.
We look forward to seeing you a this relaxed, casual event. The free mini-ball is ideal for swatching, so bring size US 11 & 13 needles if you would like to knit throughout the evening.
An Evening with Delizia
Wednesday, November 9: 6pm-8pm
Located at Wool & Co.
1687 N. Lancaster Rd.
South Elgin, IL 60177
Happy Knitting!
The Wool & Co. Team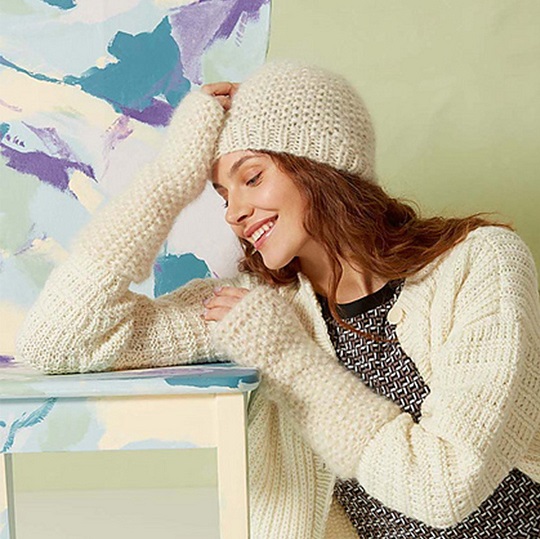 Delizia Hat & Armwarmers 274-28, 274-29