First Colorwork Cowl by Jared Flood,
Brooklyn Tweed Shelter
Just a reminder our 2 week Beginner Stranded Colorwork Workshop begins Sunday, October 2 at 11am!
Everyone is invited & welcome to attend this 2 week, project based workshop where you will learn how to knit two-handed stranded colorwork.
The complimentary workshop will take place Sunday, October 2 & 9 from 11am-12pm. The two sessions are linked, so we recommend you attend both for the best experience.
The project is the First Colorwork Cowl by Jared Flood. This is a wonderful pattern to learn stranded colorwork. The cowl may be knit in Brooklyn Tweed Shelter for a more classic look or Brooklyn Tweed Tones for a modern twist.

Session 1: Sunday October, 2: 11am-12pm
History of stranded colorwork
Fiber & color selection
Technique demonstration
First Colorwork Cowl introduction
Interactive yarn & color selection for your cowl
Session 2: Sunday October, 9: 11am-12pm
Review of technique demonstration & color dominance
Begin & work on stranded colorwork section of cowl
You will not need any materials for the first session, so just come ready to have fun & learn about stranded colorwork. The instructor will review what is needed at the end of the first session & aid in choosing colors, as well as needles.
Beginner Stranded Colorwork Workshop (2 week, project-based)
Sunday, October 2 & 9, 11am-12pm
Located at Wool & Co.
1687 N. Lancaster Rd.
South Elgin, IL 60177
Please feel free to email us at [email protected] with any questions. We look forward to seeing you.
Happy Knitting!
The Wool & Co. Team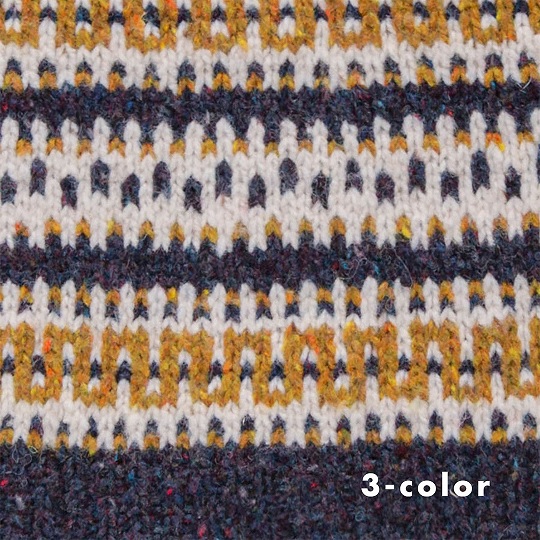 Close-up stranded colorwork pattern of the
First Colorwork Cowl by Jared Flood,
Brooklyn Tweed Shelter