Retreat by Chloe Thurlow, Rowan Pure Wool Worsted,
Styled with JUL Designs Leather Screw-in Pedestal Button (small)
Join us on Saturday, December 10 from 11am-12:30pm for a very special JUL Designs Styling Event!
Laura Bellows, owner & creator of JUL Designs, will be demonstrating beautiful & unique ways to style & wear knits using her hand-crafted shawl pins, sticks, buttons, cuffs & closures.
This is a perfect opportunity to take some time for yourself, relax at Wool & Co. & experience the pieces that are "jewelry for your knits."
After the live, virtual event, browse the JUL Designs Trunk Show & have the opportunity to play with the pieces.
We look forward to seeing you! The event is complimentary & no sign-up is required.
JUL Designs Styling Event
Saturday, December 10; 11am-12:30pm
Located at Wool & Co.
1687 N. Lancaster Rd.
South Elgin, IL 60177
Please feel free to email us at [email protected] with any questions. 
Happy Knitting!
The Wool & Co. Team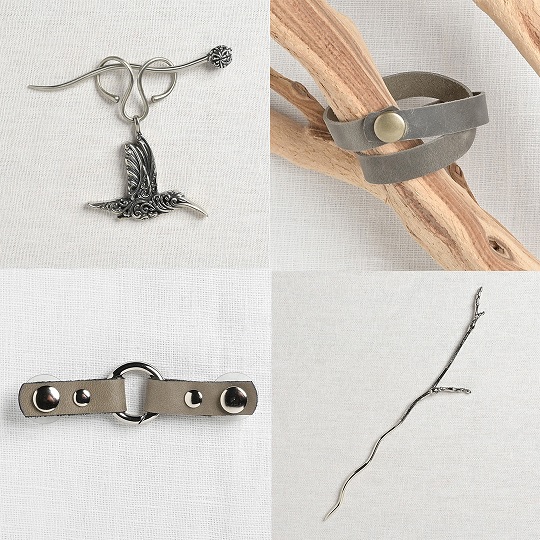 Clockwise from top left (All JUL Designs): Hummingbird Charm Lock Shawl Pin, Simple Snap Shawl Cuff/Bracelet, Twig Shawl Stick, Cordoba Tiny Round Ring Closure