DRK Everyday Cowl by Andrea Mowry,
150-400 yards favorite DK weight yarn
There is always something going on at Wool & Co. Thursday evenings! Join us for our weekly Knit-Alongs where there is always plenty of inspiration.
Here is what we have coming up in April....
DRK Everyday Cowl by Andrea Mowry KAL
Thursdays, April 12-20, 6pm-8pm
Andrew Mowry has us falling in love yet again with her latest cowl design. The DRK Everyday Cowl is a wearable, bandana-style cowl with the ideal amount of texture. Relaxing garter stitch & slipped stitches come together to create a polished piece that you will want to knit again & again.
The piece comes in sizes toddler-adult large & requires 150-400 yards of DK weight yarn. It is knit on a size US 6, 24" circular needle. Your creativity can really shine here as the cowl can be knit in one color, two color stripes, a double strand marl or even a fade. The only rule is to have fun!
Penny Candy Shawl by Julia Farwell-Clay KAL
Thursdays, April 27-May18, 6pm-8pm
Our late April KAL is the Penny Candy Shawl by Julia Farwell-Clay. This oversize shawl is a kaleidoscope of texture & color with plenty of styling options. The shawl is knit in relaxing garter stitch with bands of a cool "blister stripe lifted stitch" pattern. The main color of yarn is dropped & then a contrasting color is picked up to create little windows or pops of color. The new stitch is great for those who love learning new techniques.
Here are the materials you will need for this KAL.
Materials:
We look forward to seeing you Thursdays for our fun, social & relaxing Knit-Alongs.
Please feel free to email us at [email protected] with any questions.
Happy Knitting!
The Wool & Co. Team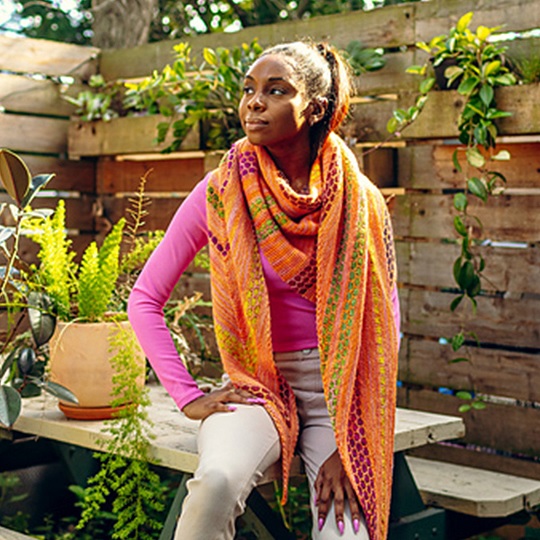 Penny Candy Shawl by Julia Farwell-Clay,
Manos del Uruguay Fino + Fino Mini Skein Set, colors Songbird, Daphne