Clockwise from top left: Wegner by Veta Romanenkov (Woolfolk Tåge 18),
Henningsen by Deborah Doherty (Woolfolk Tåge 28),
Kantaral by Hiromi Nagasawa (Woolfolk Fleck F1),
Ejner by Fiona Alice (Woolfolk Tåge 21)
Introducing not one, but two new yarns from Woolfolk: Tåge & Fleck. Both of these yarns are the epitome of relaxed luxury & are amazing to knit. The garments created have an incredibly soft hand with gorgeous drape.
A blend of Ultimate Merino wool & mohair, Tåge possesses a gorgeous halo that gives a romantic glow to garments & accessories knit with the yarn. The chainette construction ensures that garments knit with Tåge are lofty, light & airy, but still substantial.
The pattern collection for Tåge has a coastal cool vibe that is all about taking time to relax & enjoy life in style. These knits are not only about the joy of knitting, but the destination as well. From the cozy comfort of the Henninsen cardigan by Deborah Doherty to the Wegner pullover by Veta Romanenkova, the collection is full of must-knits.
View the Tåge Pattern Collection
The other new yarn from Woolfolk is Fleck, a gorgeously soft blend of Ultimate Merino wool & Donegal tweed. The tweedy flecks give garments & accessories a lovely character. Even simple stockinette is elevated. The sport weight gauge of the yarn knits into garments with a fine gauge that may be worn year round.
From the Fleck pattern collection, we cannot wait to knit Kantaral by Hiromi Nagasawa & Trompet by Josee Paquin. The two pullovers showcase the beautiful simplicity of the yarn with textured stitches & cables that take center stage. Fleck also knits into lovely hats, gloves & cowls.
View the Fleck Pattern Collection
Shop Tåge, Fleck & the rest of the Woolfolk yarns at woolandcompany.com or we welcome you to visit the yarn in person at our shop.
Happy Knitting!
The Wool & Co. Team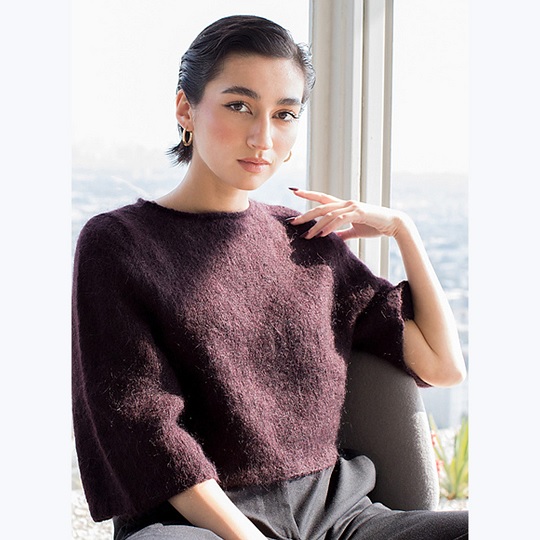 Risom by Anna Moore, Woolfolk Tåge, color 20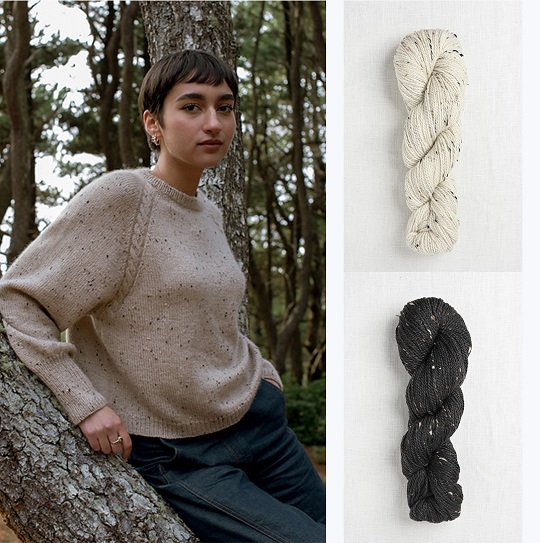 Trompet by Josee Paquin, Woolfolk Fleck, color F1