Clockwise from left: Giovanna (Carbon), Giulia (Clay), Giuseppina (Clay),
Rowan Mode 4 Projects Felted Tweed by Quail Studio
Ciao! We are speaking the language of knitting love with this collection of four patterns knit in Rowan Felted Tweed by Quail Studio.
The patterns are only available in the printed booklet; Rowan Mode 4 Projects Felted Tweed by Quail Studio. The wearable, knit delights include a tunic, hat, scarf & vest.
Our favorite from the collection is the Giovanna tunic. With just the right amount of positive ease, the DK weight piece is an ideal all-season gauge & may be worn alone or layered. A relaxing knit, the ribbed tunic is knit flat & seamed along the shoulders, as well as a portion of the sides. The bottom sides are left open for a flattering split seam. The cowl neck is picked up & knit at the end.
One of Rowan's most popular yarns, Felted Tweed is a soft blend of wool, alpaca & viscose that has pretty flecks of tweed amongst the slightly "felted" wool. This gently worn in quality makes this yarn a treat to knit & wear.
Through 12/12/22, purchase 4 balls of Rowan Felted Tweed or Felted Tweed Colour & receive the pattern booklet free. The free booklet will be added automatically to your cart.
Giovanna Tunic:
Finished bust circumference: 48( 52.25, 56.25, 60.5, 66, 70, 74, 78, 83)"
8( 9, 9, 9, 10, 10, 10, 11, 11) balls Rowan Felted Tweed (sample in 159 Carbon)
Size US 5, 16" + 24"-32" circular needles
Visit the store or website to see pattern details & shop over 50 colorways of Rowan Felted Tweed.
Happy Knitting!
The Wool & Co. Team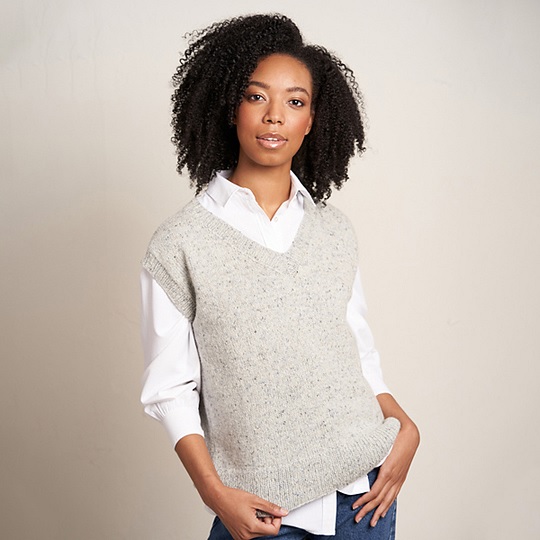 Gianna (Alabaster),
Rowan Mode 4 Projects Felted Tweed by Quail Studio