Summit Sweater PTO-031_05 by Lang Yarns Design Team
Lang Yarns Cloud, color 5 Bordeaux, Green, Blue
The Summit Sweater is one of those pieces that comes to life when knit in a special yarn. Lang Yarns Cloud is a self-striping, color-changing yarn that brings a cool, boho look to this relaxed boatneck pullover. Holding two strands of Cloud together while knitting takes the look one step further adding a marled character to the stripes.
Fun, fast & soft, Cloud is a bulky weight yarn created by binding extrafine merino wool in a nylon chainette structure, resulting in a light, airy yarn that has a beautiful halo, as well as durability.
The cozy pullover is worked flat in four pieces (back, front, 2 x sleeves), then seamed. Stitches are picked up around the neck, which is knit in the round to finish. It is knit on chunky US 15 & 17 needles for a relatively quick knitting garment.
Materials:
Finished Bust 47.25" (52.75")
5 (6) balls of Lang Yarns Cloud (photo in color 5 Bordeaux, Green, Blue)
Size US 15 & US 17, 24"-32" circular needles
We also love some of the other pieces in the collection that include two additional pullovers, an effortless, oversized cardigan, & cabled hat.
Purchase the minimum quantity of yarn for one of the listed patterns & receive the pattern free.
Happy Knitting!
The Wool & Co. Team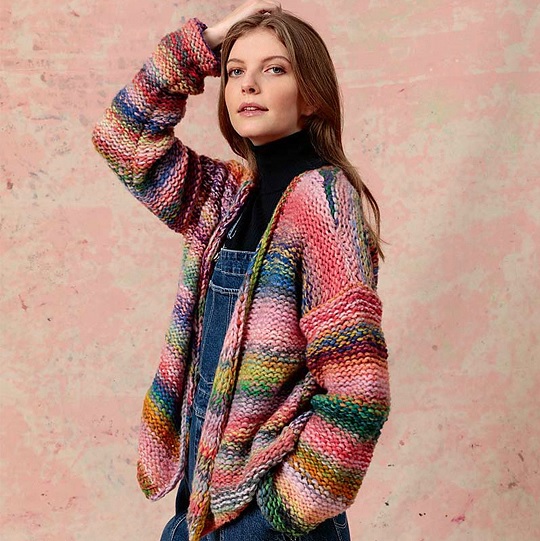 Sunshine Cardigan PTO-031_03,
Lang Yarns Cloud, color 8 Bright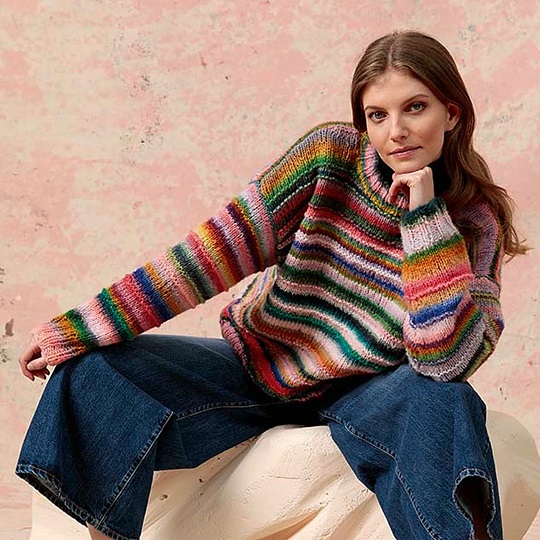 Genevieve PTO-031_02
Lang Yarns Cloud, color 8 Bright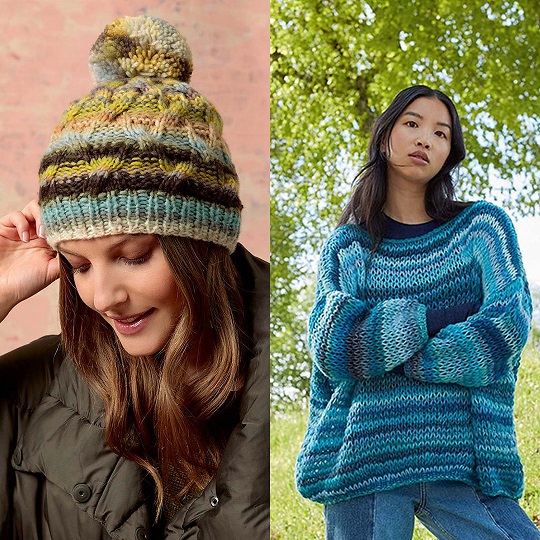 Plunge Hat PTO-031_13, color 1 Brass, Pale Blue, Olive & Blue Holiday PTO-045_06,
color 11 Blue Turquoise