Milky Way Cowl by Bea Naretto
The Fibre Co. Road to China Light,
colors Mother of Pearl, Tanzanite, Cobalt, Apatite
Bright points of light pop against the deep, jewel tone background of the Milky Way Cowl by Bea Naretto. Sumptuously soft, the bandana style cowl showcases the stunning richness of The Fibre Company Road to China Light; truly one of the most luxurious yarns we have felt.
The blend of baby alpaca, silk, camel & cashmere has a delicate sheen with a gentle halo that adds to the ethereal beauty of the cowl. Each colorway has an incredible depth of color that brings knits to life.
The seamless, stranded colorwork cowl is a fun, satisfying knit with the gradient background & high contrast "stars."
To knit the cowl, you will need the following materials:
5 skeins total The Fibre Co. Road to China Light
2 skeins Main Color (MC), cover sample Mother of Pearl
1 skein Contrast Color 1, cover sample Tanzanite
1 skein Contrast Color 2, cover sample Cobalt
1 skein Contrast Color 3, cover sample Apatite
Size US 3, 16" & 24" circular needles (knit in the round)
We are also loving the two additional color combinations that The Fibre Co. put together: a deep blue & smokey purple version with are also beautiful.
Happy Knitting!
The Wool & Co. Team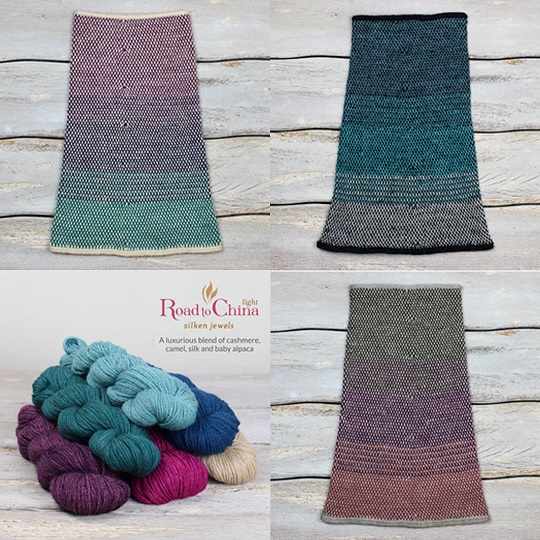 Clockwise from top left:
Version 1: Mother of Pearl (MC), Tanzanite, Cobalt, Apatite
Version 2: Onyx (MC), Blue Spinel, Blue Tourmaline, Sodalite
Version 3: Grey Pearl (MC), Smokey Quartz, Tanzanite, Carnelian