Twofold Cowl by Carina Spencer
Woolfolk Far, colors 15, 21
We love unique knits that could never be purchased in a store...the Twofold Cowl by Carina Spencer is one of these pieces. Knit in heavenly soft Woolfolk Far, the clever construction of the infinity cowl creates two layers for max style & coziness. Woolfolk Far is an incredible yarn spun with ultra-soft, 100% Ovis 21 Ultimate Merino wool. Raised on the grasslands of Patagonia, the wool has a micron count of 17.5 for the hand of cashmere with the durability of Merino.
The very cool cable detail at the center point really takes the cowl to the "must-knit" category. The pattern is worked flat & may be knit with a button closure or simple seam. It is a great piece to also have a little taste of beginner intarsia. Carina includes written instructions, as well as a link to a companion tutorial video.
Here is what you will need to knit the Twofold Cowl.
Materials:
2 skeins each of two contrasting or complimentary colors of Woolfolk Far
Size US 7 & 8, 32" circular needles
5 x 7/8" buttons (if using button closure for seam)
Shop Woolfolk Far online or visit the store to experience the immersive Woolfolk brand area, as well as the Twofold Cowl knit sample.
Happy Knitting!
The Wool & Co. Team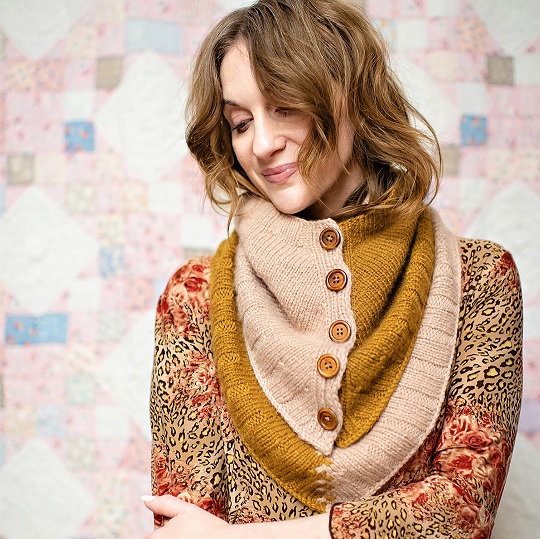 Twofold Cowl by Carina Spencer,
Woolfolk Far, colors 27, 28