Kick-off Saturday, June 30, 12:00-2:00PM

Please join Wool & Company for a summer knitalong hosted by the wonderful Laura Keiken! The Local Yarn Shawl by Casapinka is a simple boomerang shaped shawl, consisting of simple lace, textured, eyelet and mesh stitches. 
**Local Yarn Store Shawl Sample knit in Malabrigo Sock, colors Aniversario & Aguas
    Knit by Laura Keiken
The knitalong requires no sign-up & is a community event for knitters to get together, knit & socialize.  The knitalong is not an instructional event, however Laura will be available at all of the meetings to answer any questions or help trouble-shoot any issue that may arise.
Participants may come to all or none of the knitalong meeting dates.  Participants who complete the shawl may be entered to win a Wool & Co gift card.  In order to be entered into the drawing, please either bring your completed shawl into the store or email a photo of your finished object to us at team@woolandcompany.com
EVENT DETAILS
KAL Kick off Saturday June 30, 12:00-2:00PM
Knitalong get together dates:
Monday July 9, 3:00-5:00PM
Thursday July 19, 11:00-1:00PM
Saturday August 18, 1:00-3:00PM
Monday August 20, 3:00-5:00PM 
Thursday August 16, 11:00-1:00PM   
The pattern is written for two sizes:  Small and Large.  The small shawl only consists of one color but in a gradient, if desired, (560 yards); while the large shawl uses two contrasting or coordinating colors (350 yards each). The shawl is knit on US 6 32" needles.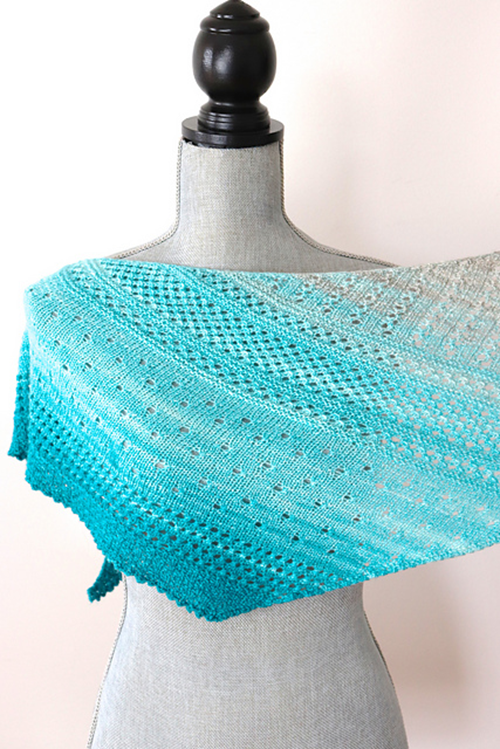 Some gorgeous yarn recommendations to knit the shawl include Malabrigo Sock, Sweet Georgia Tough Love Sock, Brew City Premium Draft Sock, Malabrigo Mechita, & Madelinetosh Tosh Merino Light.
The pattern is available to purchase in store or on Ravelry.
Happy Knitting!
The Wool & Co. Team