Rudy Textured Knitted Socks by Winwick Mum,
West Yorkshire Spinners Signature 4-Ply, color Gingerbread
Join us for fun, relaxing evenings of community & knitting every Thursday evening at our weekly Knit Alongs. Bring the project you are working on or find inspiration each week with our feature pattern.
We are excited to announce that our next series will feature both a Knit Along, as well as a Crochet Along! Starting Thursday, July 20 we will be featuring the Rudy Textured Knitted Socks by Winwick Mum & the Clementine Crochet Socks by Anna Nikipirowicz.
Both pairs of socks have a festive holiday motif, compliments of self-patterning West Yorkshire Spinners Signature 4-Ply sock yarn in color Gingerbread. There are also many other colorways to choose from, including several sparkle options! Both patterns are complimentary & require just 1 ball of yarn.
Rudy Textured Knitted Socks:
1 ball

 

WYS Signature 4-Ply, photo in Gingerbread
Size US 1.5 double point needles or preferred method of small circumference knitting
Clementine crochet Socks:
Holiday Socks KAL & CAL
Thursdays, July 20-August 3, 6pm-8pm
Located at Wool & Co.
1687 N. Lancaster Rd.
South Elgin, IL 60177
Please feel free to email us at team@woolandcompany.com with any questions. We look forward to seeing you.
Happy Knitting!
The Wool & Co. Team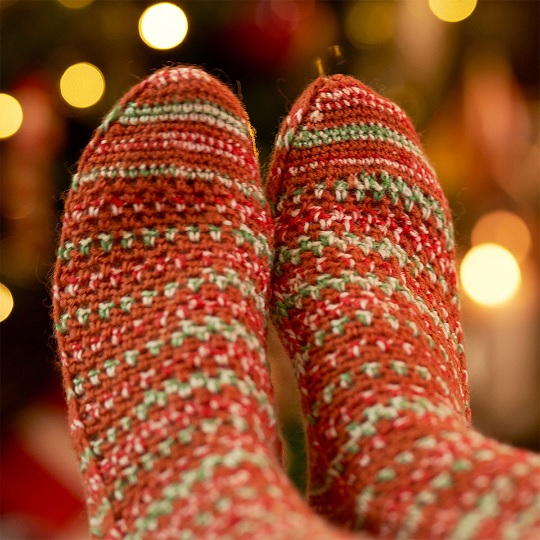 Clementine Crochet Socks by Anna Nikipirowicz,
West Yorkshire Spinners Signature 4-Ply, color Gingerbread